As a small, independently owned business, I often find myself competing against chain stores (and being indirectly influenced by them as far as pricing and rents). The small boutique merchants here in Alexandria have done a fantastic job in selling Alexandria as a shopping destination through organizations such as the
Old Town Boutique District
and their
Shop Local
program.
My friend, Leslie, introduced me to a nationwide effort called
The 3/50 Project
. The general goal of this organization is to make people aware of small businesses in their community and to encourage them to patronize those small businesses on a regular basis. Their studies have shown that for every $100 spent in locally owned independent stores, $68 returns to the community through taxes, payroll, and other expenditures.
Their name of 3/50 states their mission - to have people pick 3 small, independently owned businesses that they would hate to see disappear. They then encourage individuals to try to spend $50 a month in those businesses. Their numbers on how it would impact the local economies and small businesses are truly staggering.
They even have an
iPhone app
that allows you to find businesses that are part of the 3/50 Project. While Zoe already shows up on The 3/50 Project website, we haven't made it to the listing on the App yet! I need to check into this!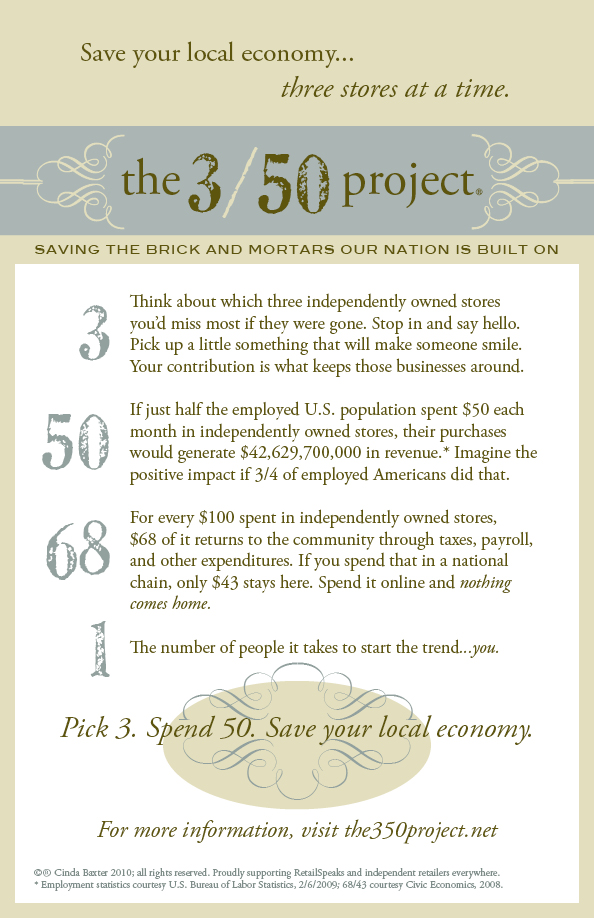 This is a timely topic, especially with the opening of the new Anthropologie store in Old Town.
Next up: Visiting the Anthropologie Grand Opening event