When Jim came home from work today, he scolded me for not updating my blog in several days. He said "You leave people wondering what is going on!" I think it is very sweet that he reads my blog, especially since he lives it day in and day out. As a side note, I think he wanted to be absolved of all of the ridicule he has been getting for not putting up the curtain rod at the store.
Yes, the curtain rod (and the beautiful curtain) is up! On Friday night after dinner, we went to Target to find a rod (I had measured the area once more prior to leaving the store). A sturdy but inexpensive rod in hand, Jim took me to work on Saturday and came in to install the rod and hang the beautiful curtain that friend Karen had made for me. Photographic evidence below: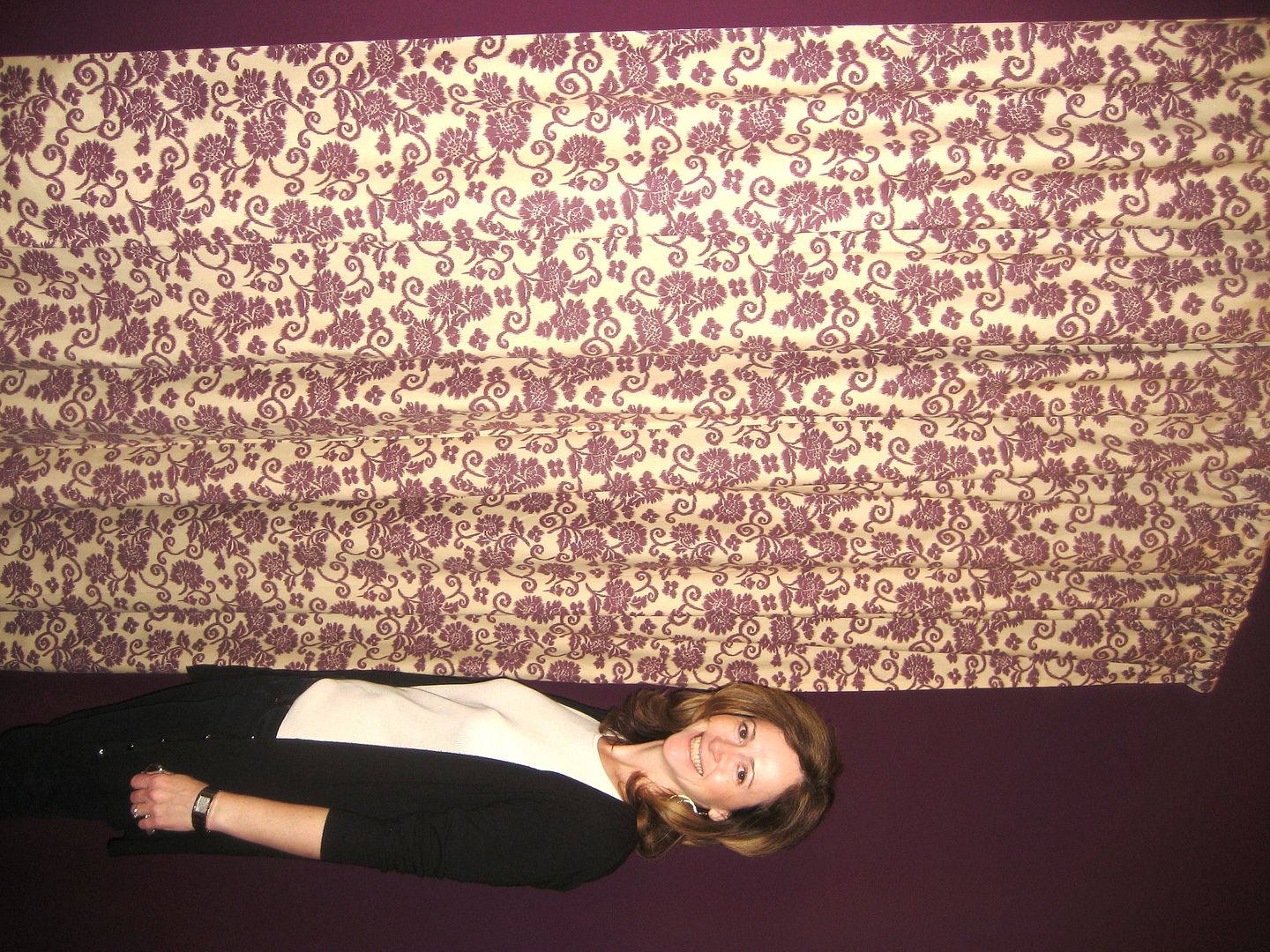 For those who may not remember, this curtain now covers the area where the wheelchair lift is housed in the store.
I admit that I did leave everyone hanging last Wednesday. Just what DID I do on Thursday? Well, I had the folks from the Old Town Alexandria Patch come in to do a short video of the store. It has me on camera as well as speaking. I was very impressed with the videographer - he was extremely prepared and professional. I have to confess, I am somewhat dreading reviewing the results. I love sharing anything about Zoe but just hate the sound of my own voice! I know...so weird. I promise to share it on the blog when the final version is ready to go.
Zoe has gone international in the past week. I've had two sets of visitors (one from London, one from Budapest, Hungary) come in because they had granddaughters named Zoe. Both sets of visitors enjoyed shopping and hearing about the store. So, when you see those Zoe bags when traveling in Europe...
On Friday, a member of the editorial team from the Alexandria Gazette-Packet came to visit me at Zoe. She took two photos and did a short interview. The AG-P is a weekly paper so perhaps there will be something in the paper regarding Zoe this week!
Lots of new shipments arrived last week! It seemed like every day I was unpacking something fun and new! Mother, Graham & Spencer, Tracy Reese, Red Engine White Denim. And I'm kicking off my first true Sale beginning tomorrow - knitwear for 30% off!
I always love it when friends stop by to see me. I had a nice visit from friend Janet and her husband on their way to Mai Thai on Friday evening. And friend Andy and his girlfriend came in on Saturday. That's part of the fun - I never know who might walk through my door. Strangest visitor this past week - a man who wanted to read my palm. I told him "No". This is the sort of thing I never imagined when I thought about opening a store. My family wants me to keep notes and write a book some day. Believe me, I'm getting the material to fill one!